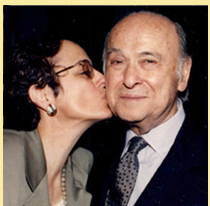 It was fascinating to research
this story
in the current edition of
Edible Manhattan
on restaurateur Joe Baum. I had so much good material a lot of it ended up on the cutting room floor.
Baum (pictured at left with his daughter, Hilary) is credited with coming up with many of the innovations that define the modern American restaurant. During his career he was responsible for some of the showiest, most profitable eateries of the day, including Windows on the World, Tavern on the Green, and The Four Seasons.
Although I was not able to fully tell this part of his tale, the end of Baum's career was a bittersweet one. In 1970, he endured a painful ouster from the firm he had led to success with his wildly imaginative innovations, Restaurant Associates. He bounced back, however, landing a gigantic contract to develop all 22 restaurants in the new World Trade Center complex. From there, he rose to even greater heights of glory. In 1985, at the age of 65, he took on the $30 million project of overseeing a meticulous and widely praised renovation of The Rainbow Room complex atop 30 Rockefeller Plaza. With the Rockefeller family itself footing the bill, Baum had at his disposal the kind of deep pockets he needed to realize his lavish vision.
The good times came to an end in 1996, though, when the real estate development and management company Tishman Speyer took over the center. Lease renewal negotiations fell through in 1998 between Baum, co-operator David Emil and Tishman Speyer over a $4 million per year lease agreement, which would have been the highest in the business. Baum and Emil walked away from the contract, and the Cipriani family took over the restaurant for an 11-year-run that ended badly. In 1998 Cipriani, by then deeply in debt, was ousted by Tishman over millions of dollars in unpaid rent.
Negotiations between the Baum team (which by then included restaurateur Drew Nierporent) and Tishman Speyer fell through in May 1998. By October, Joe Baum was dead. To those who knew him best, there was no question that the loss of his beloved Rainbow Room, which he had coveted since first setting eyes on it on a school field trip to New York City in 1941, was what finally led to Joe Baum's death. "Losing the lease at the Rainbow Room put Joe over the edge," Baum's longtime confidant and personal advisor Tony Zazula told me. Tishman Speyer, he says, "Didn't realize they had the best." Yes, Baum had been suffering from some time from the prostate cancer that killed him, but this was a man who wanted to live forever because he loved his work so much.
Baum's longtime scribe and speechwriter Irena Chalmers said of Baum, "he died of a broken heart."